Viet Nam
Strengthening One Health cooperation in line with the National One Health Strategic Plan (OHSP), 2016-2020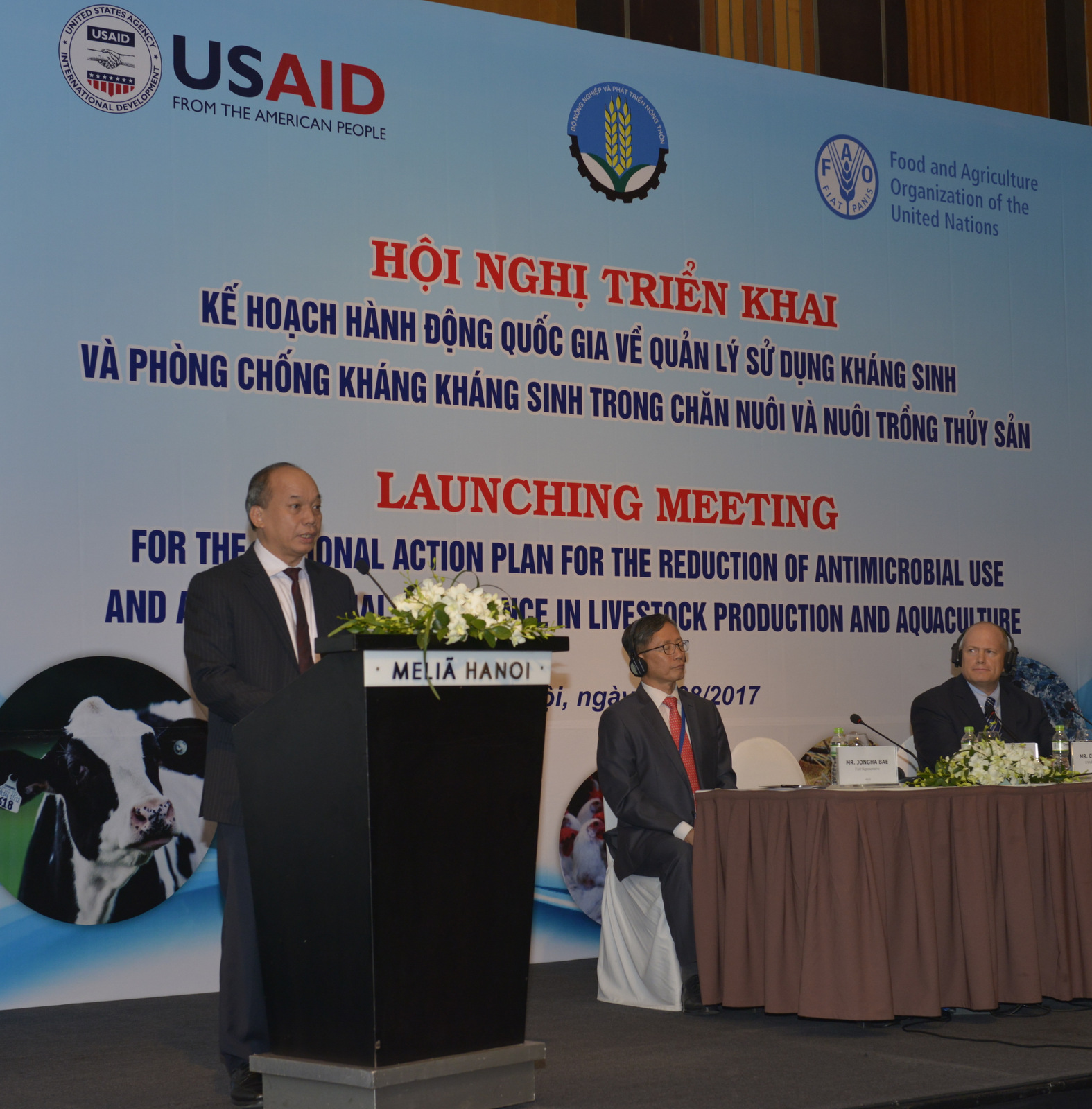 Building on the results of two previous integrated operational national programs—the Integrated Operational Program for Avian and Human Influenza (OPI, 2006-2010) and the Viet Nam Integrated National Operational Program on Avian influenza, Pandemic preparedness and Emerging infectious Diseases (AIPED, 2011-2015)—the Viet Nam One Health Strategic Plan for Zoonotic Diseases (OHSP), 2016-2020 was developed by the Ministry of Agriculture and Rural Development (MARD), the Ministry of Health (MOH), members of the Viet Nam One Health Partnership for Zoonoses (OHP), and other related national and international agencies and organizations. It was officially approved by MARD according to Decision No. 5273/QD-BNN-HTQT dated 19 December 2016.
The OHSP sets out a 5-year plan for the continued development of Viet Nam's One Health capacities for reducing the health and other impacts of zoonotic diseases. The emphasis is on further development of core One Health competencies and attention to nationally-defined priority areas and diseases, with the following three objectives: (i) Strengthening One Health capacity for the prevention and control of all zoonotic diseases; (ii) Enhancing preparedness for a human emergency of animal origin; and (iii) Applying One Health principles to limit the public health impact of current priority zoonotic diseases.
In order to introduce the objectives and key contents of the OHSP and to promote One Health implementation in Viet Nam, a Meeting on "Strengthening One Health cooperation in Viet Nam in line with the National One Health Strategic Plan (OHSP), 2016-2020" was held on 12 July 2017 in Ha Noi, co-chaired by Vice Minister Vu Van Tam of MARD together with Vice Minister Nguyen Thanh Long of MOH, Mr. Michael Greene, Mission Director for Viet Nam of the United States Agency for International Development (USAID) and Ms. Akiko Fujii, Acting Country Director of the United Nations Development Program (UNDP).
Participating in the Conference, representatives of national partners including the Ministry of Natural Resources and the Environment and international partners such as USAID, the U.S. Centers for Disease Control and Prevention (CDC), international banks including the World Bank, and the Asian Development Bank, multilateral partners including the United Nations agencies and the Delegation of the European Union to Viet Nam, bilateral partners including the Agence Française de Développement (AFD) and the British Embassy in Ha Noi, other research institutes and Non-Governmental Organizations including ILRI, OUCRU, VOHUN, CIRAD, WCS, and the USAID/EPT-2 Preparedness and Response (P&R) project, had a chance to share previous and on-going coordinated One Health activities, as well as future plans, projects and programs, and expectations on collaboration with the Government of Viet Nam. This has demonstrated the strong commitment of national and international partners in preventing and responding to emerging infectious diseases at the human-animal-environment interface.
Providing remarks at the meeting, MARD Vice Minister Vu Van Tam expressed his appreciation for the contributions and support from international organizations and donors over the past decade and recognised the positive results achieved by One Health cooperation activities in Viet Nam. Vice Minister Vu Van Tam expressed his strong expectation that—building on successes over the past ten years—the OHSP will be implemented effectively to reduce the health and other impacts of zoonotic diseases in Viet Nam, contributing to overall national, regional and global efforts./.