Viet Nam
Strengthening collaboration for preventive measures for influenza A(H7N9) in Viet Nam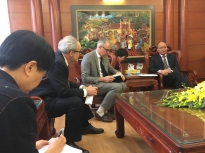 The risk of influenza A (H7N9) introduction to Viet Nam has increased since new highly pathogenic strains were detected in China in late 2016. Since then, the Food and Agriculture (FAO) Organization of the United Nations in Viet Nam has been in collaboration with key agencies of Government of Viet Nam to undertake swift actions to prevent the H7N9 virus from entering the country. Although this relatively new strain of avian influenza of Chinese origin has not yet entered in Viet Nam, it is crucial to strengthen preventive measures as H7N9 could pose a substantial threat to public health and to the poultry production of the country.
During the official visit to Viet Nam, a meeting was convened between Vice Minister Vu Van Tam of the Ministry of Agriculture and Rural Development (MARD) and Dr. Nguyen Thu Thuy, Deputy Director General of the Department of Animal Health (DAH) and FAO's global and regional representatives (Dominque Burgeon - Director of FAO's Emergency and Rehabilitation Division, Juan Lubroth – FAO's Chief Veterinary Officer and Wantanee Kalpravidh, FAO Regional Manager for the Emergency Centre for Transboundary Animal Diseases - ECTAD). The focus of the meeting was on emergency preparedness and response activities in Viet Nam as well as additional assistance for keeping the country safe from potential incursions of H7N9 and from the impact of climate change.

Also during this trip, the FAO mission visited the United States Agency for International Development (USAID), the main financial supporter for FAO's avian influenza prevention program and for WHO, which is FAO's key One Health implementation partner. The visit was to review preparedness and response actions including rapid detection using handheld mobile PCR and RNA extraction (Pockit/iiPCR), and mechanisms for rapid and seamless response (contingency culling with compensation for all poultry at markets, access to stockpiles, and mobilization of human resources).

As a follow up to this mission, an FAO Crisis Management Centre (CMC) preparedness mission to Viet Nam is scheduled to review and validate Viet Nam's H7N9-related contingency plan, including the development of modalities for culling and compensation payments. Additionally, a report on the impact of disasters on agriculture and food security was prepared for the Regional Conference on Disaster Risk Reduction held in Ha Noi on 15 and 16 March 2018./.