Viet Nam
Public-Private cooperation in preventing antibiotic resistance in livestock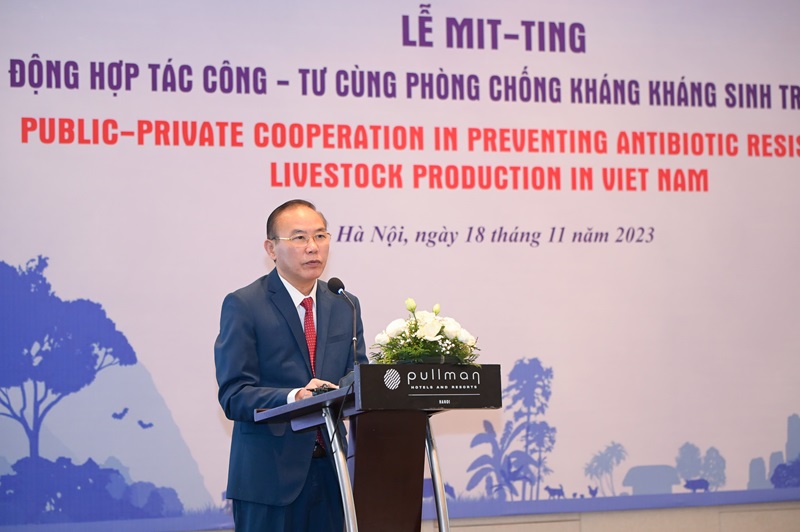 Responding to World Antibiotic Resistance Week, on the afternoon of November 18, 2023 in Hanoi, the Ministry of Agriculture and Rural Development – leading chair of One Health partnership framework for Zoonoses held a Ceremony calling on Parties to join hands in cooperation on Antibiotic resistance in agriculture, with the main theme chosen for 2023: "Public-Private cooperation in preventing antibiotic resistance in livestock".
There are about 100 delegates from 03 Ministries (Agriculture and Rural Development; Health; Natural Resources and Environment) and business sector and industry associations which is the main target group of the Public-Private Partnership, International Partners and provinces across the country participate online.
The One Health Partnership Framework on Zoonoses co-chaired by 03 Ministries clearly states that the goal of preventing Antibiotic Resistance is a particularly important content, stipulated in 3 out of 6 objectives in the OHP Framework. Emerging infectious diseases and rising antibiotic resistance (AMR) are among the most urgent global health threats facing humanity.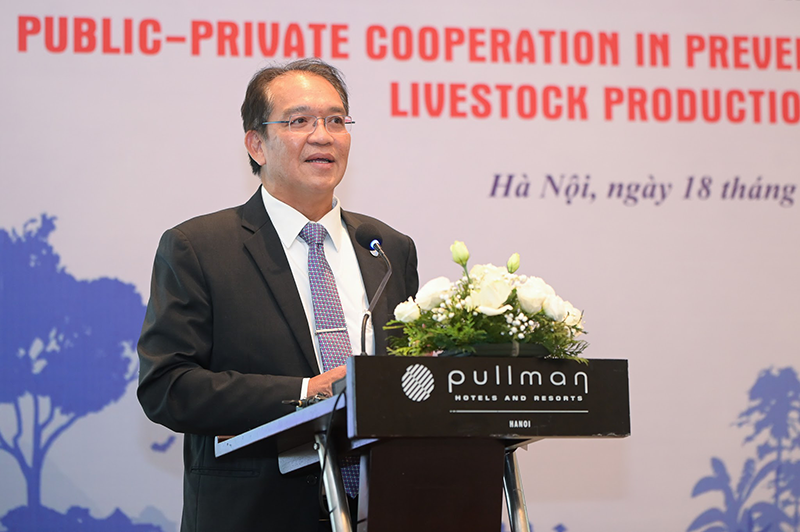 Deputy Minister Phung Duc Tien said that Vietnam is the first country in the Western Pacific region to develop a National Action Plan on Antibiotic Resistance (2013-2020 period), this Plan was issued by the Ministry of Health in Decision No. 2174 dated June 21, 2013. Then in 2017, the "National Action Plan on antibiotic use management and antibiotic resistance prevention in livestock and aquaculture" was issued. In 2021, the Ministry of Agriculture and Rural Development issued Decision No. 3609 approving the national action plan on antibiotic resistance control in the agricultural sector for the period 2021-2025. Recently, the Prime Minister aproved the National Strategy on drug resistance prevention and control in Vietnam for the period 2023 - 2030, with a vision to 2045 in Decision No. 1121/QD-TTg. However, despite implementing an action plan on antibiotic resistance, Vietnam continues to be one of the countries with the highest rate of antibiotic use in Asia.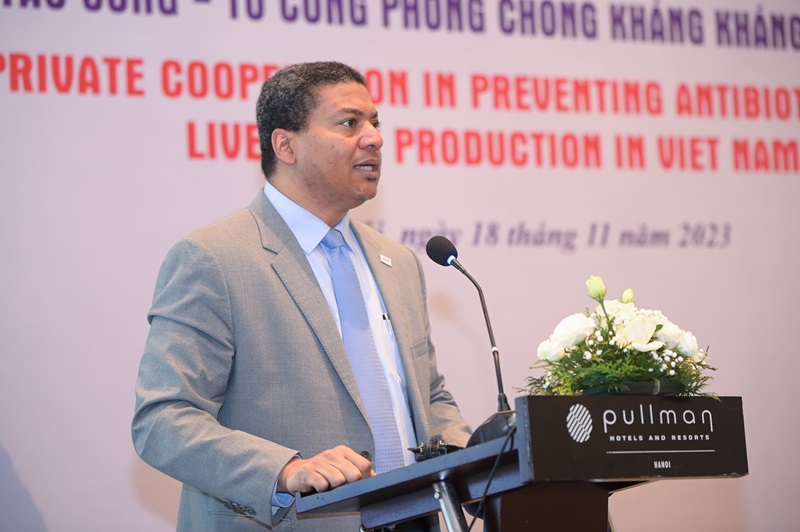 Vietnam still has many shortcomings in the supply and control of antibiotic use, the antibiotic resistance monitoring system is not yet complete, etc. This requires all levels, sectors, and economic sectors in Vietnam to continue to strengthen coordination with each other in the prevention and control of antibiotic resistance, emphasizing coordination with private partners in the prevention of antibiotics in agriculture, especially in livestock based on OH approach in the interaction of humans, animals, plants and the environment...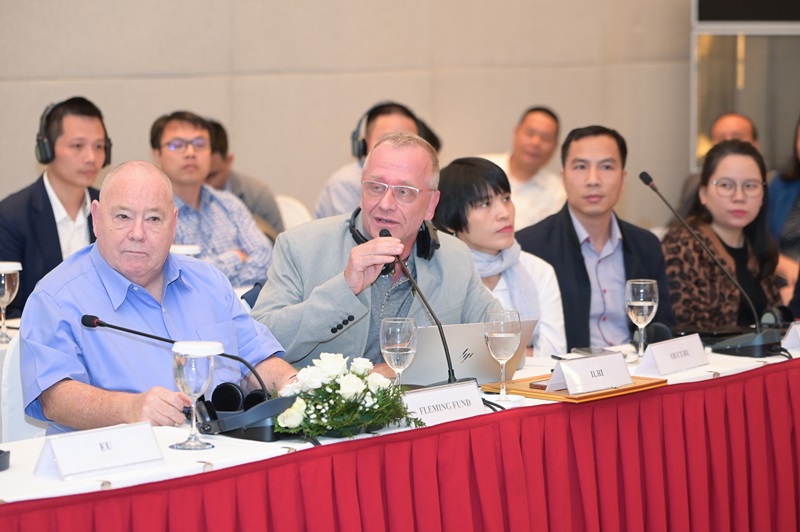 Co-chairing the Ceremony, Mr. Randolph Augustin, Director of the Office of Health, USAID, expressed concern about exaggerating the great uses and safety of Antibiotics for humans and in agriculture. Because when used incorrectly, these antibiotics can promote the development of resistant microorganisms, which will then affect humans through direct contact or through the food chain or waste out into the environment. This could have a serious impact on human health and on national and global economies through trade; affecting the import or export of animals and animal food products. He acknowledged Vietnam's efforts to address AMR issues under the OHP framework and the Global Health Security Program. Currently, USAID is supporting the Ministry of Agriculture and Rural Development through a project operated under the Public-Private Partnership model, called "TRANSFORM" aiming to (1) engage government leaders and poultry producers by advocating for antibiotic use principles that have been developed to reduce the need for antibiotics; (2) mobilize businesses to participate in applying principles of antibiotic use management.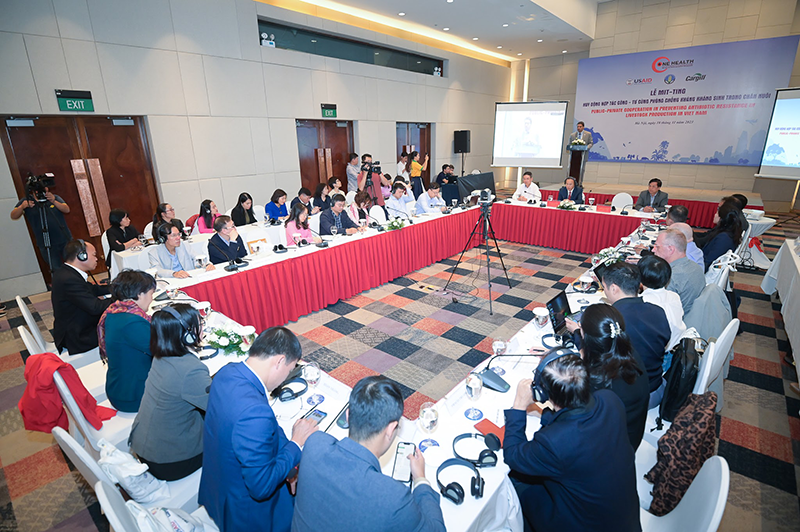 Talking about the role of the private sector in Vietnam, he was very happy to see that the Vietnam Poultry Association (VIPA), Vietnam Animal Husbandry Association (AHAV), DABACO Group, Hoa Phat, Dehues have committed to applying the principles of toogether 40 businesses participating in this event. He emphasized the leadership role of the private sector in Vietnam and hoped to mobilize more motivated areas to combat antibiotic resistance
Speaking at the Ceremony, Representative of the FAO-Vietnam Office, Mr. Nguyen Song Ha said that FAO is working closely with the Government of Vietnam to ensure appropriate dissemination of new regulations on the use of antibiotics in livestock and aquaculture, as well as monitoring the presence of antibiotic resistance in animals and food. Encouraging the responsible use of antibiotics in livestock will help keep the environment and food free of antibiotic residues and antibiotic-resistant bacteria.
At the global level, FAO-WHO-UNEP-WOAH collaborate to maintain antibacterial effectiveness and ensure sustainable and equitable access to antibacterial medicines for responsible and prudent use in human, animal and plant health, contributing to achieving the Sustainable Development Goals (SDGs).
At the Ceremony, businesses all affirmed their commitment to joining hands with the Government to practice good antibiotic resistance prevention in agriculture, considering this a part of their responsibility to public health.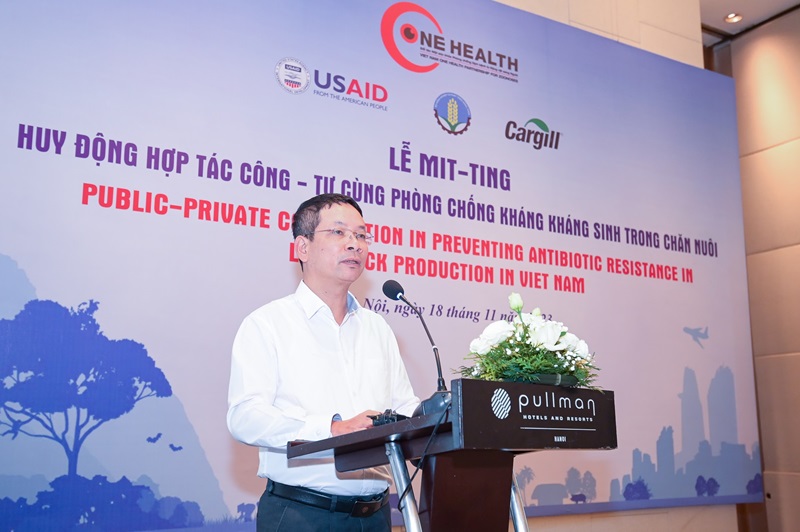 The event was organized very promptly in the series of events responding to the World Antibiotic Resistance Week, with the goal of recognizing the important role of private partners along with government agencies in implementing priorities and responsibilities. Government's service on preventing antibiotic resistance in general and preventing antibiotic resistance in livestock production in particular. "The event shows a change in to the participatory management. A standard, comprehensive operating system should apply a one health approach. That means everything is a process, a chain of links, interacting closely with each other, with no component left behind and less valued. Therefore, the private sector is always one of the important target groups in rural agricultural development. The systematic investment of agricultural enterprises has increased the value of agricultural products, better quality, meeting food safety regulations and domestic and export market needs" Deputy Minister Phung Duc Tien emphasized.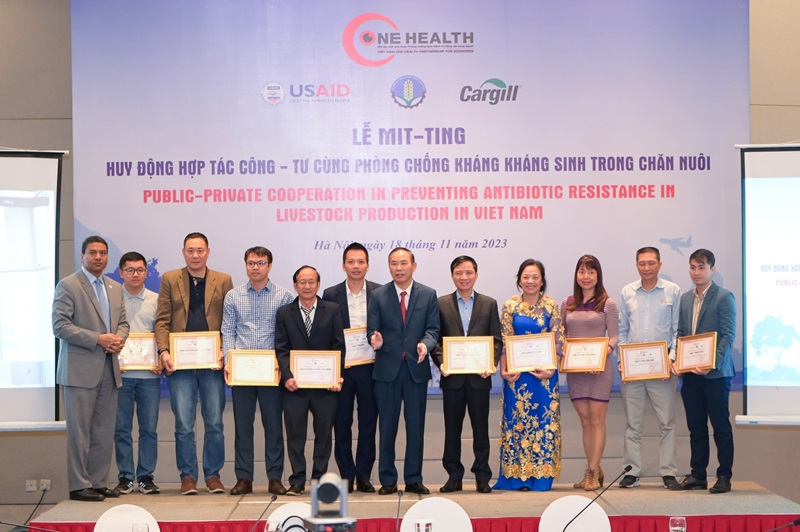 The ceremony took place in an atmosphere of contribution, openness and great success.