Viet Nam
The Global Health Security Agenda (GHSA) to continue through 2024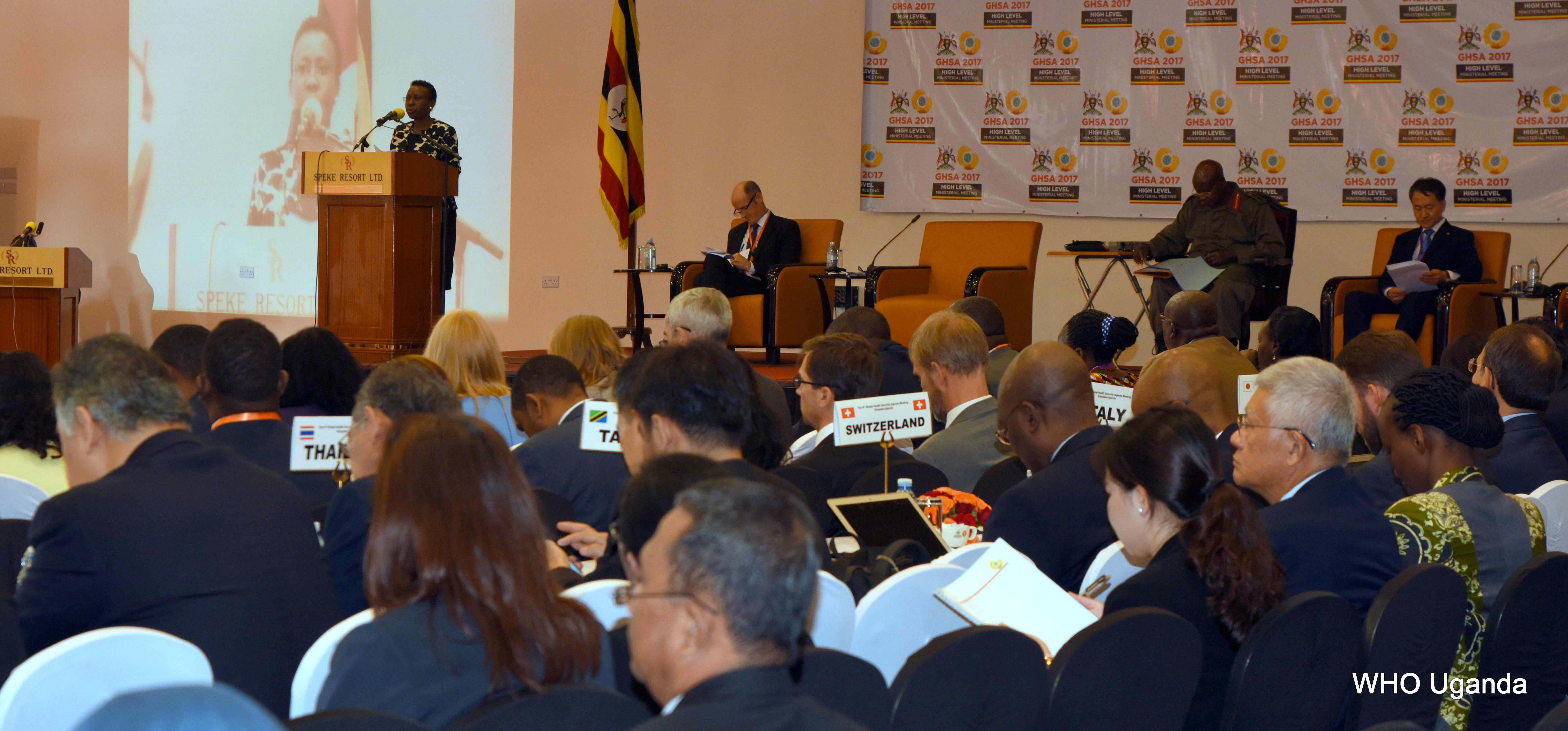 The 4th GHSA High-Level Ministerial Meeting was held in Kampala, Uganda from 25-27 October 2017
Despite resource limitations, Uganda has been one of the most active and successful countries implementing the Global Health Security Agenda (GHSA) in Africa since the program was launched in 2014. For this reason, Uganda was chosen to be the host country for the 4th GHSA High-Level Ministerial Meeting, held in the capital, Kampala, from 25-27 October 2017 with the theme "Health Security for All: Engaging Communities, Non-Governmental Actors, and the Private Sector."
The Conference consisted of five Plenary sessions on GHSA processes and financing beyond 2018, six in-depth Breakout sessions, and a one-day site visit. The conference set out detailed objectives, including to:
· Build country ownership, strengthen multi-sectoral collaboration, and promote integration of health security into routine national, subnational and community programs.
· Encourage national governments to develop or broaden frameworksto engage communities, non-governmental organizations, the private sector, academia, development partners and other agencies in GHSA.
· Share good practicesfor enhancing and sustaining GHS programs at national, subnational, and community levels.
A Joint Declaration by Ministers and Heads of Delegations was issued after the two-day conference, commending Participating Countries and Partners for achieving significant advances in developing sustained country-level health security capacity since the launch of the GHSA in 2014, and highlighting the role that the GHSA has played in spurring joint and multi-sector actions. On that basis, the Declaration expressed a commitment to continue the global health security activities and support for extending the program until 2024 to accelerate the implementation of the International Health Regulations (2005). Furthermore, to ensure a clear and common understanding of a joint way forward on the initiative, the GHSA Steering Committee, in consultation with all interested Participating Countries, advisors, and affiliated organizations, is developing a detailed proposal describing the scope of work, specific aims, and working methods for the next phase of the initiative. This proposal is expected to be presented at the next GHSA high-level meeting, to be held in 2018 in Indonesia.
Within the framework of the Meeting, Viet Nam, Indonesia and Senegal, as the three current leading countries of the Zoonotic Disease Action Package (ZDAP), jointly organized a Side Meeting with the objectives of reviewing ZDAP achievements to date as well as identifying the way to cooperate in the upcoming time. Some of the main outputs of the meeting include: (i) Encouraging the involvement of Lead Countries of other Action Packages for information sharing and collaboration strengthening; (ii) Recognizing that antimicrobial resistance (AMR) and zoonotic diseases are inter-related, it is proposed to promote the inclusion of AMR issues in the ZDAP Strategic Plan; (iii) Viet Nam to hand-over the chairing role of the leading countries to Senegal for the next 12 months, including hosting of the 4th ZDAP Conference in 2018 by Senegal. As of now, Viet Nam has completed the hand-over process to the Government of Senegal.
At this event, the ZDAP was recognized as one of the most effective and successful Packages out of the eleven Action Packages of the GHSA, taking into consideration the remarkable success of the 3rd International ZDAP Conference hosted by the Government of Viet Nam in August 2017 in Da Nang, Viet Nam. Noting the Kampala Declaration, the extension of the GHSA to 2024 is a great opportunity for Viet Nam to continue its co-leading role, contributing to joint efforts for a world safe and secure from global health threats posed by infectious diseases./.